1st Words Together
Age 0-2 years
This 5 week programme is full of fun and simple activities to support your child's communication and language development. Ideal for younger babies age 0-2 years, these sessions will give you lots of activity ideas to try, and the confidence to support your little one's communication at home.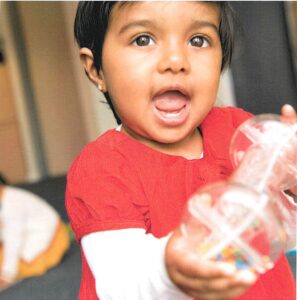 1st Words Together runs on Tuesday mornings, 10-11am with Wehida Mulla at the Springfield Centre. To find out more and to book your place, ask at Reception or contact the Springfield Project on 0121 777 2722 or info@springfieldproject.org.uk
This is a Springfield Children's Centre activity for families in the Hall Green District. If you are not sure, please call us on 0121 777 2722 to check you are in our catchment area, and if not we will be happy to put you in contact with the Children's Centre for your area.