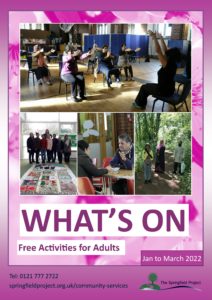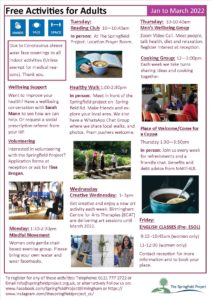 We support the community to come together to learn new skills and spend time relaxing or being active.  We are passionate about boosting self-esteem and helping people feel better about themselves.
Monday: 
Mindful Movement: 1:30-2:30pm
Women only gentle chair based exercise group. Please bring your own water and wear facemasks.
Tuesday:                          
Reading Club:  10—11am
Make new friends, build your confidence or simply improve your communication skills. At The Springfield Project. Location Prayer Room.
Healthy Walk: 1:00-2:30pm
Meet in front of the Springfield Project on Springfield Road. Make friends and explore your local area. We also have a WhatsApp Chat Group where we share local walks, and photos. Pram pushers welcome.
Wednesday:                        
Creative Wednesday:  1- 3pm
Get creative and enjoy a new art activity each week. Birmingham Centre for Arts Therapies (BCAT) are delivering art sessions until March 2022.
Thursday:
Cooking Group: 12—2:00pm Each week we take turns sharing ideas and cooking together.
Place of Welcome: 1:30—3:30pm
Join us every week for lunch, refreshments and a friendly chat. Benefits and debt advice from NARTHEX.
Friday:
ENGLISH CLASSES (Pre- ESOL)     
9:15 -10:45am (women only)
11-12:30 (women only)
Contact reception for more information and to book your place.